I LOVE Five question Friday! Hop on over to Mama M's to join in!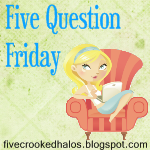 1. What is your favorite Halloween candy?
I love some candy corn! Unlike most, the waxy texture is what I love about it. I like to nibble at it. Surely there is some other Halloween candy that I am not thinking of, but honestly I am not a big "candy" person. I'll eat it if it's there, but I am rarely on a candy mission. I would much rather prefer a good dessert, like these from The Curvy Carrot:
or this amazing Culinary Concocktion by Peabody
2. Do you fold your socks?
I used to do the loop n' tuck deal like the majority of the world, but now I just fold them together. Plus, I think it saves some room. So, yes, I fold my socks.
3. What is something you wish you had been warned about?
I thought I had prepared myself for everything surrounding childbirth; however, though all of my reading, family, friends, etc. no one warned me about the possibility of a "spinal headache." Apparently, sometimes following an epidural you can have a "post dural puncture," during which you leak spinal fluid where the needle was injected, and that release of fluid causes the pressures around your neck and brain to lower creating a headache. I suppose this happened when they attempted my epidural for the THIRD TIME after they had RIPPED it off my back following the second attempt. (I can now imagine what a back wax must feel like.) Allow me to clarify what I mean by headache: excruciating, gut wrenching, paralyzing. If I wasn't laying FLAT on my back, no, no pillow, I was writhing in pain. It can be treated with a "blood patch." They simply roll you on down to the O.R. and make you wait for two and a half hours draw blood from your wrist and insert it into your spine. The relief is immediate; however, you must remain on your back. For how long, you ask? I do not know; they didn't tell me, so naturally I had to go to the restroom as soon as I got back to my room.
I felt fine through the next morning, but my first night home was horrific. The kiddo didn't sleep and trying to breastfeed without lifting your head is a mental image I wish upon no one. Hubs had to take him to his first few doc appointments alone and change all of his diapers and clothes. Plus, he gave him his first bath that I attempted to watch, but ended up having to get back flat and watch it on video a few minutes later. Daddy got thrown into the brunt of it from day one.
4. What is the most significant difference between you and your significant other?
This is an easy one, but I am trying to think how to sum it up. I suppose it's simply this: I spend money. Zac does not. He can get by with anything, and make do with whatever he must . I like to keep things new and fresh, which in his eyes can at times, ok fine, most times be a bit frivolous. He has clothes, shoes, socks, that he's had for years. I, on the other hand, cannot do it. I have to refresh every year/season or so. Oddly enough, I am also a pack rat. Now explain that, Dr. Phil.
5. What are three words you would use to describe yourself?
I sent out a mass text and email for this one because I HATE describing myself.
Thanks to the following gals who came up with these adjectives: Mom, Debbie, Sheila, Lindsay, Ms. Byrd, Krystle, Kim, T-Ram, Brooke, and Scarlett.
My head is twice the size it was when I woke up this morning.